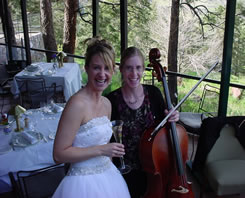 To find out more specific details about how Claricello can transform your special day including rates and scheduling information, visit our Wedding FAQ or contact us.
Claricello was co-founded by Lara Turner, cello, and Jason Gresl, clarinet. We perform a variety of music ranging from classical selections(including traditional wedding favorites) to folk, celtic, and jazz influenced songs. Our distinct combination of instruments blend beautifully and enable us to perform in both a large space and a more intimate setting. We enjoy playing together and look forward to providing memorable music for your special event.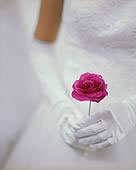 Private Events
Claricello helps create a wonderful atmosphere for any type of special occasion. Our combination of instruments allows us to perform background music that is not overpowering in a small space, yet can be easily heard in a larger setting.
An elegant dinner party, a meaningful memorial service, and a surprise birthday/anniversary celebration can all benefit from the live music that we provide. We will work with you to select appropriate styles of music and to plan when the music will take place during your event. In addition, Claricello offers the service of arranging special songs specifically for your event.
If you would like to discuss the musical possibilities for your event or request a demo CD, please don't hesitate to contact us.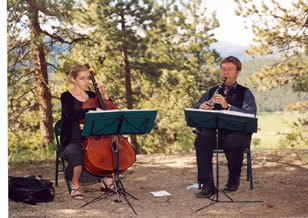 Want to hear what we sound like?
Visit our Soundclips page for a taste...
Weddings and Private Events

Weddings
Whether you are planning a classic fairytale wedding or a one-of-a-kind celebration, the variety of Claricello's music will help you create the wedding of your dreams.
Claricello appreciates that each wedding is special in its own way. We are happy to cater the music to your individual needs. We offer a free music consultation where we discuss possible options and perform from our wide variety of musical selections.
If you have a song that is special to you and is not already in our repertoire, we may be able to arrange it for you. We are always willing to work with your creativity - one couple chose for their recessional the Beatles' tune, "When I'm 64" and had a great time skipping out! See Arrangements for more info.
What music do you provide for a wedding?
For your wedding ceremony, we provide prelude music to set the mood, processional
music for the entering bridal party, any special selections you would like during your
ceremony (unity candle lighting, marriage license signing, time for personal
reflection), and recessional music as you and your guests leave. We also can provide
music for the cocktail hour and reception.


For how much time should we hire you for our wedding ceremony?
You will want to hire us for one to one-and-a-half hours depending on the length of
your ceremony and the amount of music you would like before and after it.
Generally, the prelude music lasts for 15-30 minutes as your guests arrive, and
recessional music can accompany only the exiting wedding party or last until the final
guests are leaving.


>What are your rates?
We charge $300 for the first hour and $200 for additional hours (extra time can be charged in 15 minute increments). In addition to our performance at your wedding, our fee includes a
private consultation where we discuss your music needs and play selections to help
you choose music especially catered to your event. Travel fees may apply. Please
contact us to discuss your specific rates.


What if we want a song that is not already in your collection?
We offer the distinctive service of arranging music especially for your event.
Requested arrangements have included classical selections, Beatle's tunes, and
favorite movie soundtrack songs. In order for us to accommodate you, we will need
information about the song including the title and composer/performer, a sound
recording, and/or the written music (piano score, fake book, etc.) Arrangement costs
range from $30 to $100 depending on length and complexity.


We would like you to play at our event- how do we hire you?
After discussing your event by phone or email, we will draw up a contract and
schedule a consultation. To reserve your date, you must enclose a non-refundable
deposit for half of the amount due with the return of your signed contract. The
balance is due on or before the day of your event.