Since 1998, when Claricello was officially formed, their purpose has been three-fold: first, to explore the sonic and musical possibilities and repertoire of clarinet and cello; second, to create an interactive presentational format in which to engage audiences, spark interest in live classical music, and help listeners to appreciate and better understand contemporary music; and finally to experiment with multidisciplinary elements by working with musicians and other artists like-mindedly dedicated to high-level creative performance.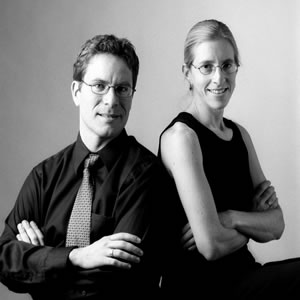 Claricello's contemporary music concerts explore the wide spectrum of music written today and give listeners an engaging introduction into the music of our time. Works performed come from all over the world and include pieces written especially for Claricello. Visit our repertoire list HERE. .
You can find Claricello sharing their music in libraries, schools and other venues in interactive performances that feature arrangements of popular jazz, music theatre, celtic and classical songs. Each concert blends well-known music with hidden gems and is tied together with stories and interesting information about the pieces performed. Please see some of our sample programs HERE.
Claricello has been invited to perform on concerts sponsored by such organizations as the Pendulum New Music Series, the Mitch Spencer Concert Series and the public libraries in Denver, Boulder, and South Bend. If you are interested in having Claricello perform on your concert series, please CONTACT US.
When Claricello was an Ensemble-in-Residence for Saint Mary's College in Notre Dame, IN, we ran the "Claricello and Friends" concert series. These concerts feature Lara and Jason both together and individually along with guest performers from all over the U.S. and Canada. Beginning Spring 2016, we have begun a new series that features collaborative and multidisciplinary performances. You can find out about these new exciting concerts HERE.